Water Damage and Mold Removal in Highland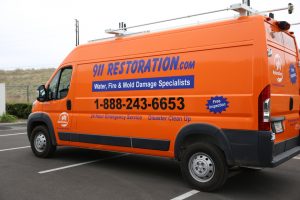 Do you need help recovering from water damage in Highland? If so, you can get the professional water damage restoration services you need by contacting 911 Restoration of the Inland Empire. We are a locally owned and operated company dedicated to helping our neighbors handle flood cleanup and plumbing emergencies.
Our water damage restoration and mold remediation techs can reach properties in Highland within 45 minutes of an emergency call. We stay on call 24/7/365, so you can call us whenever you need help the most to get:
A Free Visual Inspection for Property Owners Only

Help with Water Extraction from a Flooded Basement

Repairs for Pipe Burst Emergencies

Cleanup After a Plumbing Backup

And More…
Flood cleanup techs can also perform a mold inspection in Highland to determine if you need mold removal in Highland. Mold remediation may be necessary if your home or business is exposed to excess moisture in Highland. You may even need mold decontamination services, so call us today.
A Full-Service Water Damage Cleanup and Mold Removal Company Can Help You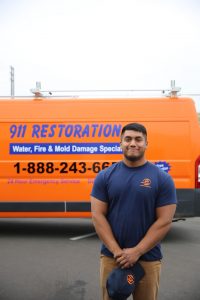 Water damage from a pipe burst emergency or heavy rains can have a serious impact on businesses and homes in Highland. Water can begin to damage your floors, walls, and ceilings in a matter of hours, making fast extraction and total water damage restoration in Highland a must.
The moisture from a flooded basement, leaking pipe, or sewage backup may also cause issues with mold growth. Taking care of flood cleanup in Highland right away can limit the chances that you will face a mold infestation, but this fungus may still gain a foothold in your property.
Fortunately, 911 Restoration of the Inland Empire offers mold remediation in Highland when you need it most. You can get a mold inspection from our mold cleanup techs right now. Let us develop a plan to handle mold removal and mold decontamination right now.
Your property can be returned to better-than-new condition after you experience any kind of water damage. The pros at 911 Restoration of the Inland Empire have years of experience totally restoring commercial and residential properties. Get help handling water damage and mold remediation in Highland now.
Get Back Your Peace of Mind After a Flood in Highland
Water damage can have natural or man-made causes in Highland. You may experience a flooded basement in Highland after a pipe burst emergency. Your plumbing could backup. Heavy rains could force water into your home or business.
Water damage restoration can take care of all these issues. The crews at 911 Restoration of the Inland Empire can handle flood cleanup, sewage removal, water extraction, and more after a pipe burst in Highland. Let us check for structural damage and fungal growth with a mold inspection. If necessary, we'll get right to work handling mold removal in Highland.
After your mold inspection, we'll focus on mold decontamination in Highland to protect your health. Some forms of mold can be dangerous, so during the mold remediation process our crews will remove the mold and use professional grade cleaners for mold decontamination.
Bring your property back to perfect condition after any water damage emergency by contacting 911 Restoration of the Inland Empire. Our water damage restoration techs in Highland are ready to help you after you experience a flooded basement or other water damage emergency.
Servicing the cities of Colton, Highland, Loma Linda, Redlands, San Bernardino, Yucaipa, Rialto… and surrounding areas.