About Us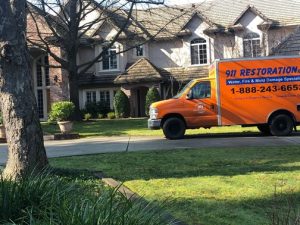 911 Restoration of Inland Empire is a full-service property restoration company owned and operated by Carlos Garcia. A Los Angeles local, Carlos grew up in San Fernando Valley, which is very close to 911 Restoration of Inland Empire's service area. He loves his community and understands the challenges living there brings, especially the hot, dry weather and the damage it can inflict on all kinds of properties. If you live in the Inland Empire and a fire, water damage, or other unexpected emergency damages your home or business, Carlos and his experienced staff of repair professionals will take care of it.
At 911 Restoration, we have over 30 years of experience with all kinds of property restoration whenever a fire, flood, or other disaster occurs. Because each of our branches is locally owned and operated, we attract business owners like Carlos who are invested in helping their communities thrive. Carlos believes in 911 Restoration's commitment to offer all of our customers a Fresh Start. That means our friendly staff won't just repair your property after damage. We'll help you find the silver lining during a hard time.
Carlos knows Inland Empire is a growing area with tons of potential for business owners just like him. He enjoys going out to dinner at restaurants in the area, so he values local businesses and wants to help them protect their properties. As a business owner himself, Carlos wants to put the needs of local property owners first. Thanks to 911 Restoration's commitment to customer service, he has an opportunity to provide community members with support during a challenging time. We're open 24/7/365, because we know disasters don't wait, and we want to help you stop damage at the source. With us, property damage doesn't have to be expensive or take months to fix. As soon as you call us, we'll have a trained professional at your door within 45 minutes. 
We're Passionate about Restoration 
Before becoming a business owner at 911 Restoration, Carlos worked in professional repairs for 6 to 7 years. His father owns a wood flooring business, and Carlos gained invaluable experience working for him. His professional background makes him very familiar with the process of restoration, since a lot of the flooring jobs he did were replacing floors after water damage restoration or mold removal. At 911 Restoration, we handle restoration every step of the way, and Carlos is familiar with many of those steps.
Carlos brings a technical passion and expertise to 911 Restoration of Inland Empire. He's always been interested in the restoration business and finds the science behind it fascinating. Because Carlos is interested in the process of water damage restoration and the effects of mold of different types of material, he'll have an in-depth understanding of your property's issue, and make sure it's handled thoroughly.
At 911 Restoration, after we contain the damage, we repair and replace your property's affected materials, including walls, ceilings, and floors. With his experience in flooring, Carlos has unique insight into the repair process, which means you're in the most capable hands. 
Carlos is more than a business owner. He loves sports, cars, and is very close with his family. His father taught him to always be respectful and responsible. That's why Carlos is committed to providing you with a friendly, professional crew that's always on time. Additionally, every team member at 911 Restoration is IICRC certified, and follows CDC and EPA protocols during all restoration jobs. Carlos wants to establish a connection with the customer, in order to better understand what you're going through and how to help. 
We Put People First During a Difficult Time
Carlos has always been passionate about restoration, but people are what brings him to the business. He knows that property restoration is a 24-hour business, and people often experience emergencies at the worst times. Carlos takes pride in knowing that he and his team at 911 Restoration of Inland Empire are there to help you through a tough time. Providing expert customer service and top-notch repairs gives him professional satisfaction.
At 911 Restoration, we care about our clients. That's why we offer all property owners a free visual inspection, and we help with insurance claims after damage hits your property. After mold, water, or fire damage, Carlos and the team at 911 Restoration of Inland Empire will do whatever they can to make sure the job is done right. We offer you and your property a Fresh Start, so your business and family can thrive.