About Us
911 Restoration of The Inland Empire is a full scale disaster relief water damage restoration company. We provide water damage restoration, mold removal, fire damage restoration, sewage backup cleanup and commercial property restoration. We are open 24/7 every single day of the year and have a 45 min or less arrival time to your property. We also provide a free visual inspection.
A Fresh Start and a Positive Approach
Our crew is passionate about offering a fresh beginning to every property owner afflicted by a disaster.
"It's a fresh start for us because we're doing something new. With so much negativity out there, we should be the positive in every negative situation." – 911 Restoration of The Inland Empire team.
How to Prevent Water Damage in Your Home
The 911 Restoration team want to keep residents of the Inland Empire safe from the perils of water damage and mold. This is why they offer proactive tips on how to prevent water damage from occurring at your home. Some ways you can prevent water damage from happening include:
Being wary of where and what you plant – Some trees, such as weeping willows, have invasive roots that can grow into your septic system and pipes.
Thorough clean your gutters – Check your gutters regularly. If you see leaves, sticks, and other buildup in them, clean them out or hire a professional team to perform the task. During a severe storm, clogged gutters can send water spilling into your house's roof and foundation, causing roof and ceiling leaks.
Don't pour grease down the drain – It doesn't matter if you flush it with hot water after, grease will always congeal and clog your pipes.
Call the Professionals Who Care
It's important to take preventative measures in order to ensure water damage doesn't strike your home or office building. But if it does, it's always best to call in the professionals. 911 Restoration of the Inland Empire can readily come to your home or business in just 45 minutes or less. John and his team of professionals are available 24/7/365 for all of your water damage needs. We offer: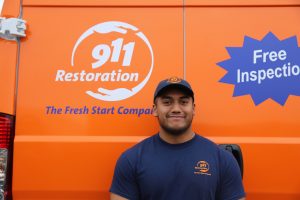 A free visual inspection for property owners only
Same day servicing
Licensed, bonded, and insured services
Emergency water extraction
Leak detection and repair
Emergency roof repair
Burst pipe emergency repair
Complete home and business property restoration
And much more!
If you have experienced water damage, we also offer the support you need during this trying time. Our empathetic team always put their customers first, and are willing to do everything to get your building, and your life, back on track. Trust in us with all of your water damage restoration needs.