Sewage Backup Cleanup in the Inland Empire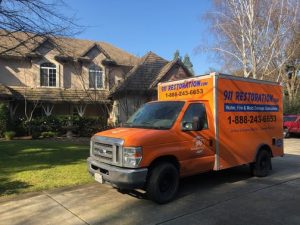 Dealing with a sewage backup is the ultimate dirty job and you should never feel like you need to deal with a situation of that magnitude on your own.
This type of water invasion needs to be handled by professionals and 911 restoration bakersfield will work with IICRC certified technicians to get your property decontaminated quickly.
We keep our office representatives available 24/7/365 to take your calls and schedule an appointment for a free visual property inspection.
There are different categories of water and in order to understand what type of water has invaded your home or business you should be aware of all three of these categories.
Category 1 Water – This is clean water that comes from a sanitary source and does not cause harm when humans and animals are exposed to it. It comes from sinks, bathtubs, showers, water supply lines and rain.
Category 2 Water – This type of water contains some bacteria but does not have any solid waste present. It may cause humans and animals to become mildly ill when they come into contact with this water. It may come from dishwashers, washing machines and leaking sump pumps.
Category 3 Water – Also known as blackwater, this water is essentially sewage. It is filled with pathogens that can cause serious illness and even death when consumed by humans and animals.
Property owners will most likely experience a category 3 water invasion through a toilet overflow. This black water is filled with waste, feces, bacteria and other toxins that can be detrimental to your health if touched or ingested.
When a toilet backs up and spills sewage into your property you need to stay away from the area and keep pets and children from being able to come into contact with the sewage. It is best to create some type of barrier around the affected area and immediately call the sewage backup cleanup technicians in The Inland Empire right away.
Understanding The Four Classes Of Water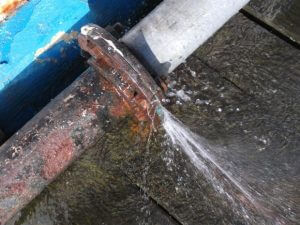 When black water floods your property it can do so in varying degrees. In some situations there is minimal flooding where only a small area is slightly affected, while other cases may involve massive amounts of water that saturates multiple rooms.
These instances are classified by different classes according to how severe the water damage has become.
Class one is the most minimal amount flooding that can be dealt with quite easily because it only affects part of a room. This water class is known to have a slow evaporation rate and has saturated materials that are not easily permeable, such as concrete or plywood.
The category with the quickest evaporation rate falls into the second class. This type of flooding affects a whole room and has soaked carpet and other textiles, like pillows or other cushions. There will also be at least a foot of water staining on the walls.
Class three is known to have the fastest rate of evaporation and involves water that has leaked through the floor on an upper level and into the ceiling, and has seeped into the floors of a lower level and into a subfloor. The moisture also has soaked into walls, carpet and insulation.
The last class is the fourth class and is known for flooding incidents that need special drying techniques to become thoroughly remediated. In these cases the water has been left to sit for so long that it has been able to completely saturate hard to permeate materials such as stone, hardwood and brick.
When black water has flooded your home you should call professionals immediately no matter what class of flooding your situation may fall in. This is because sewage carries a risk of creating a biohazard the longer it sits. So, call us today and let us make your property a safe environment again for everyone.
Sewage Cleanup Procedures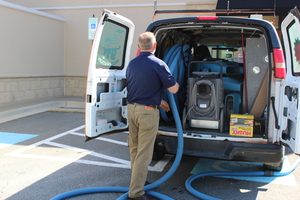 As mentioned before, when it comes to sewage cleanup situations acting quickly is crucial in keeping everyone safe who is nearby the incident.
Do not touch the black water with your bare hands under any circumstances and warn everyone to stay away from the affected area. Once the professionals arrive we will wear protective clothing that will allow us to handle the sewage properly.
We will inspect the area thoroughly before beginning the remediation efforts. That way we can determine the class of flooding and understand exactly the extent of the damage.
After extracting the sewage, drying the area and disinfecting the the room, it may be necessary to dispose of items that have been touched by the black water. If furniture, rugs and other items have been saturated it can be difficult to properly clean the items. If that is the case then you may need to make the tough decision to get rid of them.
Call our sewage backup cleanup experts in The Inland Empire when you find yourself in the midst of a inland empire water and we will give you the fresh start you deserve.
Serving the communities of Colton, Highland, Redlands, San Bernardino, Rialto and surrounding areas.