Mold Removal in The Inland Empire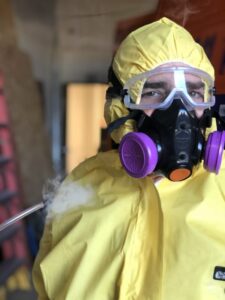 If you own a residential or commercial water cleanup property it is possible for mold to infest the area without you ever knowing. Mold tends to thrive in damp, dark places that aren't always in plain sight, such as in the attic, behind wallpaper, under sinks and inside carpet.
Sometime you can smell and feel mold before ever seeing it, which is why it is important to be aware of your surroundings upon entering your property. If you notice a musty odor when you enter the bathroom or if you sneeze and cough only when you spend time in your home, then you may have a mold infestation on your hands.
It is important to have professionals inspect your home or business due to the increased health risks that inhaling mold spores can cause in people who breathe in the substance regularly.
To provide you with the most efficient service, our mold removal technicians in The Inland Empire stay available 24/7/365 and work with IICRC certified professionals who are trained to clear every trace of mold from your property. We will look in all those hard to reach places, including crawlspaces and attics.
So, call us when you have even the slightest feeling that mold may be growing in your property and we will provide you with free visual inspection at no financial risk to you.
Hazardous Mold In Your Home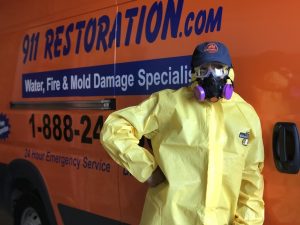 There are many different types of mold that have the potential to infest your property. Some are completely safe, while others can be hazardous to your health.
Either way, no property owner wants to see mold and mildew growing on their walls and ceiling, which is why, to be safe, you should get the substance removed and tested.
Most mold types can be identified on sight based on their growth patterns, color, texture and other unique characteristics. Below are some of the most common molds you may find growing in your home or business.
Aspergillus- This is the most common mold found in American households. It comes in over 180 species and varies in color. It is an allergenic mold that can lead to asthma, lung infections and respiratory issues.
Chaetomium- This mold is usually found in homes and buildings that have become water damaged. It has a similar appearance as cotton and can change from white to gray to brown. It usually creates a musty smell in the property.
Fusarium- This mold is found in homes with

water damage riverside ca

 and, unlike other molds, it has the ability to grow in cold temperatures. It is pink, white and red in color. Both allergenic and toxigenic, this mold can cause dermatitis, cold-like symptoms and even bone infections.
Stachybotrys- Commonly known as "black mold," this toxigenic mold can cause severe and even fatal health issues. It flourishes in damp parts of a structure that have high humidity levels.
Ulocladium- This mold is also black in appearance and has the ability to cause hay fever, skin infections and asthma-like symptoms. It is prone to grow in areas of a property that have continuous wet surfaces, such as bathrooms, kitchens and window sills.
When you see signs of a mold infestation in your commercial or residential space you can call our office and we will schedule a time to get technicians to your property at your earliest convenience to inspect the area.
Residential And Commercial Mold Removal Services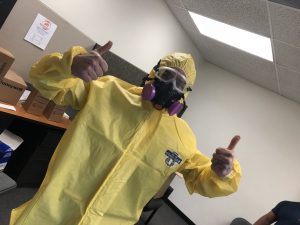 It doesn't matter if mold is found to be growing in a family household or if it has infested a retail space, it needs to be removed and tested as soon as possible.
As mentioned before, mold can affect your health in minor and major ways, but besides being a health hazard, it can also damage the structure of the property.
Mold thrives on materials commonly found in homes and businesses, such as wood, paper, cardboard and water. This can cause rotting that can lead to the need for drywall replacement and other reconstruction work.
It is easy for mold spores to become airborne, which is why it is so important to seal off the area with vapor barriers before detaching the mold from the surfaces it is growing upon. Once the area is contained then the cleaning process can begin.
The best way to eliminate mold is by getting the property as dry as possible. By implementing air movers, dehumidifiers, air purifiers, and air scrubbers we can remove all the moisture from the property.
It may be necessary to remove and replace materials that have been overgrown by mold. If parts of the property cannot be removed, then we can use cleaning agents to get rid of the rest of the substance.
Our mold removal specialists in The Inland Empire want to give their customers the fresh start they deserve after mold as infested their property, so give us a call today!
Serving the communities of Colton, Highland, Redlands, San Bernardino, Rialto and surrounding areas.