Fire Damage Restoration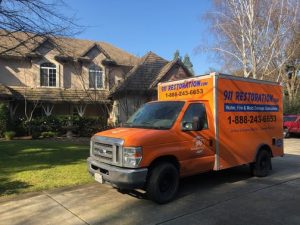 The last thing that you want to deal with as a property owner is a fire. The flames and smoke have the ability to completely ravage your home or business, requiring you to need the assistance of a professional fire damage restoration cleanup unit.
Obviously, the first thing you need to do when a large-scale fire breaks out is call the fire department, and once the flames have been extinguished 911 Restoration of The Inland Empire can step in and do all the cleanup work.
Not only can fire cause smoke, ash and tar to fill your property, but the fire extinguishers will create a significant amount of water damage in the area.
This mix of water and fire damage can be exceptionally detrimental to a property, which is why it is important to hire a fire damage restoration company that offers comprehensive services. 911 Restoration Inland Empire can provide you with these services, which include:
Smoke stain cleanup
Deodorization
Ash and tar cleanup
Water extraction
Drying services
Our fire damage restoration staff in The Inland Empire is available 24/7/365 to schedule an appointment for a free visual property inspection. So, call us as soon as the flames have been quelled in your home or business and we will work with IICRC certified technicians to check out your property today.
Fire-Proofing Your Property Against Wildfires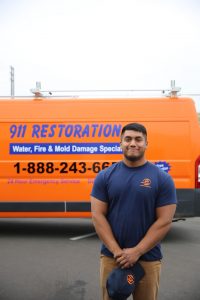 Living in The Inland Empire puts your home or business at risk of becoming overwhelmed by a wildfire. In order to stay as safe as possible it is necessary to take measures to fireproof your property.
There are fire-retardant chemicals that you can spray on the outside of your property that can slow down a fire if it comes into contact with the structure. They are environmentally friendly, so you don't have to worry about polluting the area.
You can also reduce your fire risk by maintaining the landscape surrounding your property. Do not leave any dead plants and trees on your lawn because they are essentially kindling for any nearby wildfire. To be especially safe, you should have at least 30 feet of space between your property and any vegetation.
The roof of your building can easily become engulfed in flames, especially if there are shingles on it that create ridges. Debris and embers can become trapped in these grooves. By applying fire-retardant chemicals you can reduce this risk.
If a fire gets close enough to your home to radiate a significant amount of heat on the property then the glass on the windows can shatter, exposing the property's interior to the flames. The best way to prevent this from happening is by installing double paned glass.
Even by taking all the necessary precautions you may still be affected by a wildfire, so call 911 Restoration Inland Empire when you are in need of professional fire damage restoration.
Water And Fire Damage Restoration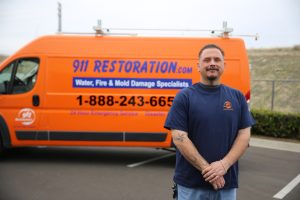 Most property owners do not realize that when a large scale fire occurs in your home or business there is also going to be a significant amount of water damage due to the extinguishers used by the fire department.
These fire hoses spray gallons and gallons of water inside a property that ends up covering the interior and exterior of a home or building. If fire extinguishers are used, then chemical fire retardants may coat the premises, creating even more damage.
911 Restoration Inland Empire can address all of these issues by using professional sump pumps and wet vacs to extract the water, air movers and scrubbers to dry the area, cleaning agents to remove smoke stains, ash and tar, and deodorization techniques.
It may be necessary to get rid of furniture and other personal items that have been too badly damaged by the fire and water exposure, and we will assist you with their disposal.
We want to be the company you can rely on to help you with every aspect of the remediation process. So, call our fire damage restoration team in The Inland Empire immediately after a fire has taken place and we will turn your disaster into the fresh start you deserve.