Water Damage in San Bernardino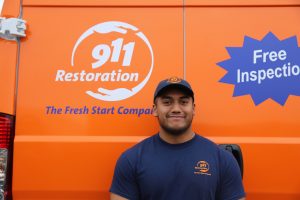 Cities in the Inland Empire have the potential to face mother nature's wrath at a moments notice. Surrounding cities such as San Bernardino, Fontana, and Rancho Cucamonga face common disasters around these areas including: fires, floods, storms, winterstorms, landslides, mudslides and heavy rains. Being prepared is the first step property owners can take in the event a disaster strikes. However, these disasters can happen with little to no notice. Which is why it is important to have a highly trained team of restoration experts, like 911 Restoration of Inland Empire, that is just one phone call away.
In the San Bernardino area, it is common for property owners to experience water damage as the result of a natural disaster, or from an issue like a burst pipe. Despite the cause behind the damage, the water damage restoration experts at 911 Restoration are available 24/7, 365 days per year. When property owners call our team for water damage restoration services, they will arrive within 45 minutes to begin your fresh start. Our team understands how stressful dealing with property damage can be, which is why they will do whatever necessary to get the property back to pre-damage condition. All while restoring property owner's peace of mind at the same time.
At 911 Restoration of Inland Empire, we want San Bernardino and surrounding area residents to know that their safety is our company's number one concern. When you choose the highly trained IICRC-technicians for restoration services, like flood cleanup, you can guarantee we will take whatever steps necessary to provide total property restoration. Next time water damage presents itself in the form of basement flooding, a burst pipe or any other issue, call our team for expert water damage restoration services.
Property Damage Restoration Service Specialists
When property owners in our area are searching for a water damage company, we want 911 Restoration of Inland Empire to come to mind first. Our water damage cleanup team has the knowledge, equipment and training necessary to combat issues of any size. In addition, the team understands the potential future risks that water damage can cause, like a need for mold removal, and will take necessary action to ensure these risks are handled.
The restoration experts are able to provide water damage cleanup services like:
Sewage cleanup

Burst pipe cleanup and repairs

Schematic water damage repairs

Flood damage restoration

Water damage drywall repairs

Water remediation

Sewage restoration

Water damage inspection

Ceiling repairs

Mold removal

Flood cleanup

And more
Water damage cleanup services should be a priority for property owners. The longer damage sits unattended to, the more likely it is to increase. In order to avoid the need for further property damage restoration services, call the team at 911 Restoration as soon as damage is suspected.
San Bernardino, Fontana and Surrounding Cities Go-To Restoration Company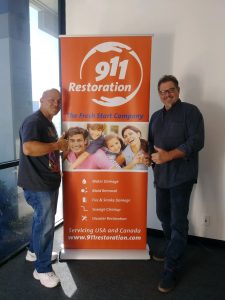 911 Restoration of Inland Empire is locally owned and operated. Our team is comprised of local residents who also reside in the San Bernardino, Fontana, Upland, Highland and other surrounding cities. As a restoration company, being local allows our team the knowledge of understanding the area and risks property owners face. This knowledge gives us the ability to provide the highest level of water damage cleanup and emergency restoration services to those in the area.
Whether you are dealing with a burst pipe, need flood cleanup or have yet to discover the culprit behind your water damage, call our water damage restoration team. In addition to water damage restoration, the team is able to provide services for issues including mold damage and fire damage. When you need emergency restoration services in San Bernardino, 911 Restoration is here for you!
Proudly providing restoration services to San Bernardino and the following cities:
Colton

Fontana

Highland

Loma Linda

Lytle Creek

Mt. Baldy

Rancho Cucamonga

Redlands

Rialto

Upland

Yucaipa